Pregnancy is one of the most exciting times in your life. During this part of your journey you will come across many new experiences from changes to your body and more. One of the new adjustments in your daily routine will be your fashion. As your baby grows, you will have to change up your wardrobe but this doesn't mean that you will have to compromise on style. Today we have 23 cute pregnancy outfits that will show you that you can still wear trendy and fun outfits. There are outfits to suit every season and there is something for everyone. So, take a look and enjoy your pregnancy in style!
1. EASY TO WEAR PREGNANCY OUTFIT
The first outfit that we have to show you is so cute and easy to wear. This looks features ripped jeans with a pink top, sandals and accessories. An outfit like this is perfect for days out, shopping trips and more. It is a summer outfit that will keep you feeling comfortable but stylish too. You can recreate this or maybe wear sneakers and a jacket on a chilly day.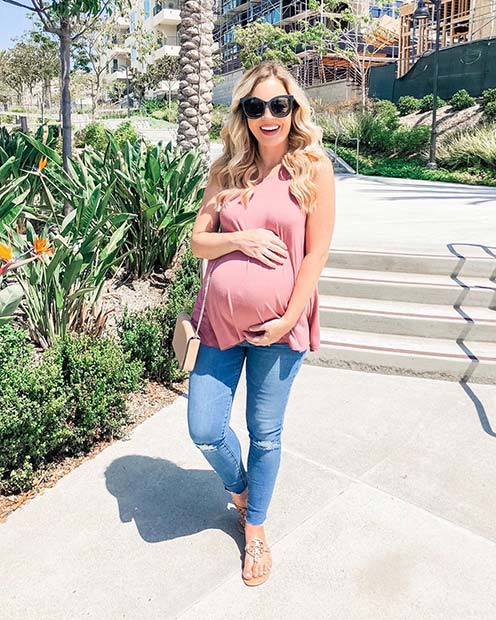 2. CHIC STRIPES AND JEANS
Next, we have a chic and trendy outfit. The stylish mom-to-be is wearing a stripe top with ripped bootcut jeans complete with accessories such as a watch and a necklace. An outfit like this would be perfect for the fall season because of the color palette and you could even wear it with boots and a coat. For the summer, you could recreate a similar outfit with lighter stripes and blue jeans.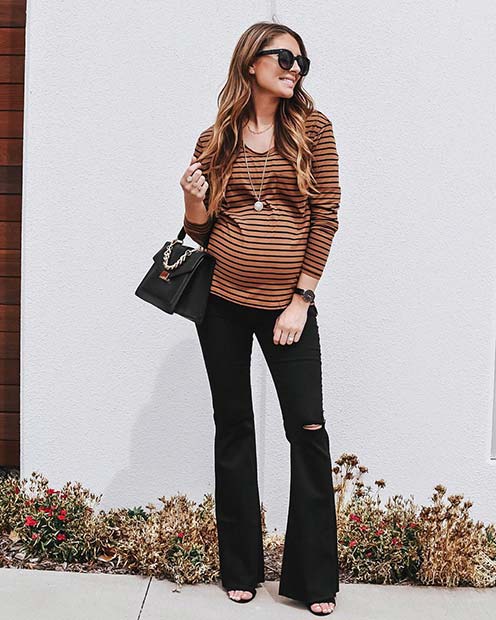 3. BOLD JUMPSUIT
Add a pop of color to your look with a bright jumpsuit like this! Here we have a vibrant red jumpsuit that is worn with white sneakers. The color is so statement making and it would be such a chic look for the summer. This mom is wearing sneakers but you could wear with sandals, flip flops or even a low heel for a special event. A jumpsuit like this can be worn anywhere from casual days to vacations and even parties too.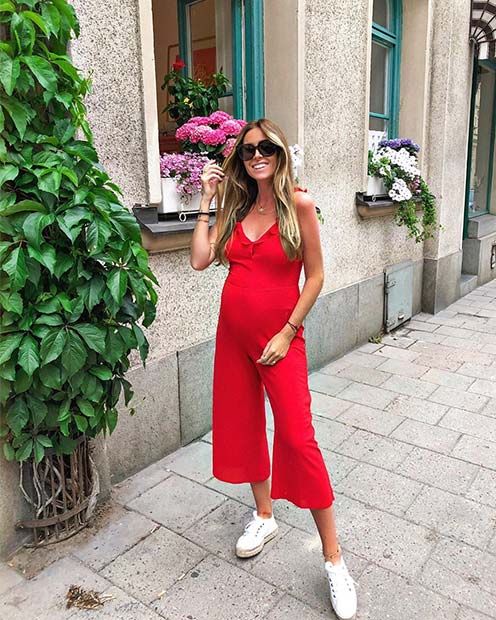 4. COMFORTABLE AND RELAXED OUTFIT IDEA
This next idea is perfect for those who want to feel comfortable and cozy while being trendy too. The outfit features an oversized top, leather look leggings, boots and a cute hat. This is such a stylish outfit that is perfect for the fall season. We love the leggings because the leather look is very on trend for the fall and winter 2019. You could keep it casual like this or swap the top and accessories and create a glam outfit for the evening too.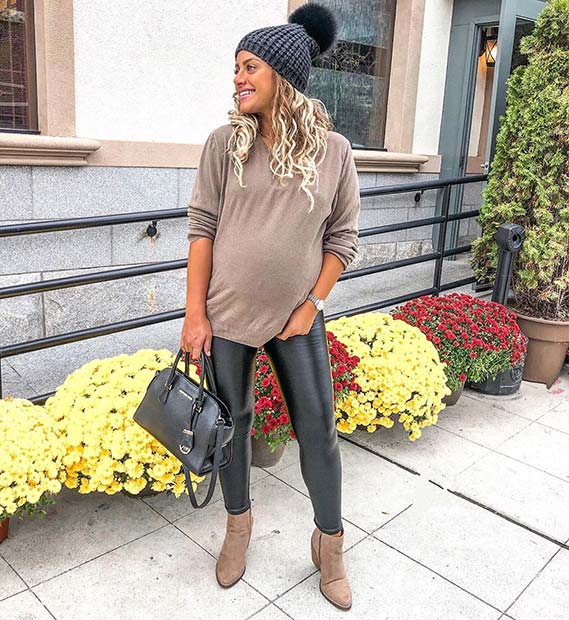 Source: @doriel_fit
5. CUTE AND SUMMERY DRESS
During the summer season a cute and floral dress is a must-have. While you are pregnant, you could try a gorgeous outfit like this. Here we have a bright dress with a white floral print. The look is complete with a white jacket and sunglasses. This would be perfect for the summer and for vacations. There are so many floral dresses available online and there are lots of different colors to choose from. You could also try darker floral options for the fall and winter so you could wear a floral dress with boots for those seasons.