11. CASUAL DRESS AND SHIRT
Casual summer dresses are great for a stylish no fuss look. Sometimes you don't have a long time to get ready in the morning so it is great to have a trendy dress on hand. Stripes are a great choice for the summer and as you can see it can be styled with other things. This would be a great staple item.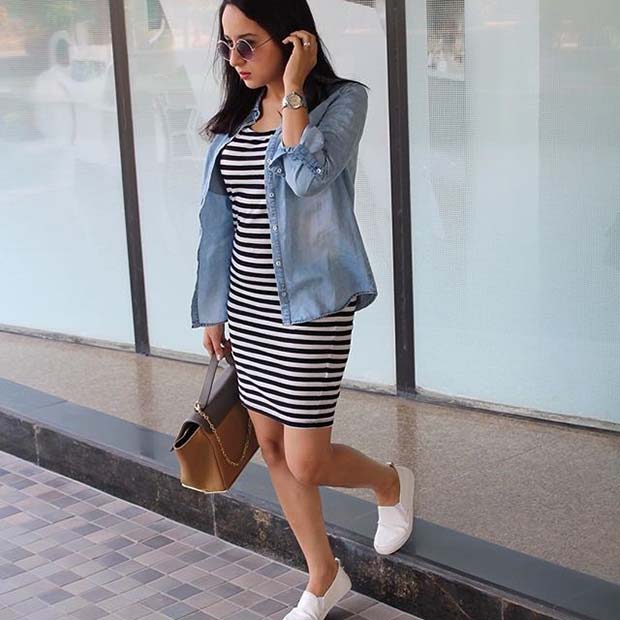 12. SUMMER TUNIC
Going to the beach or on vacation? Then you need a cool summer tunic like this one. It is perfect for wearing over the top of your swimwear or just as it is. This is a great piece to pack in the suitcase as it can be worn in a few ways. Wear with sandals or a wedge in the day and glam it up with heels for a night out.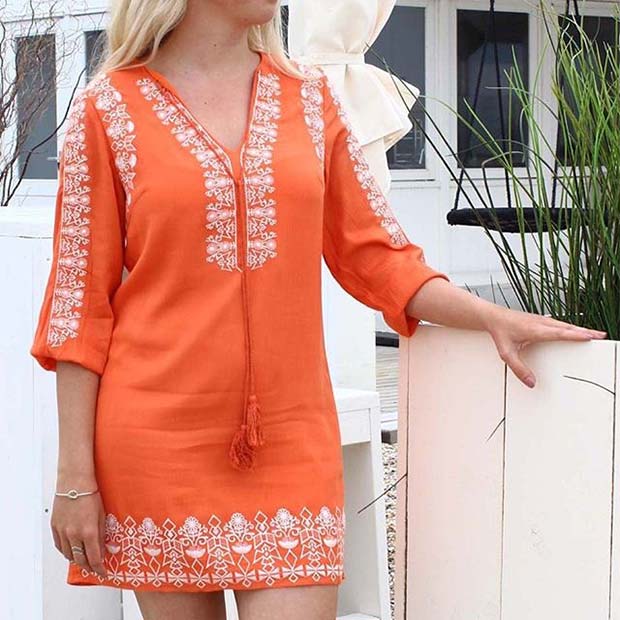 13. JEANS, SNEAKERS AND T-SHIRT
Dresses not for you? Then consider a trendy outfit like this one. Sometimes you just need to be relaxed and casual but still stylish. The easiest way to achieve this is with a t-shirt, jeans and sneakers like this. The light colors keep it summery and the jeans are short so it gives the look a summery vibe.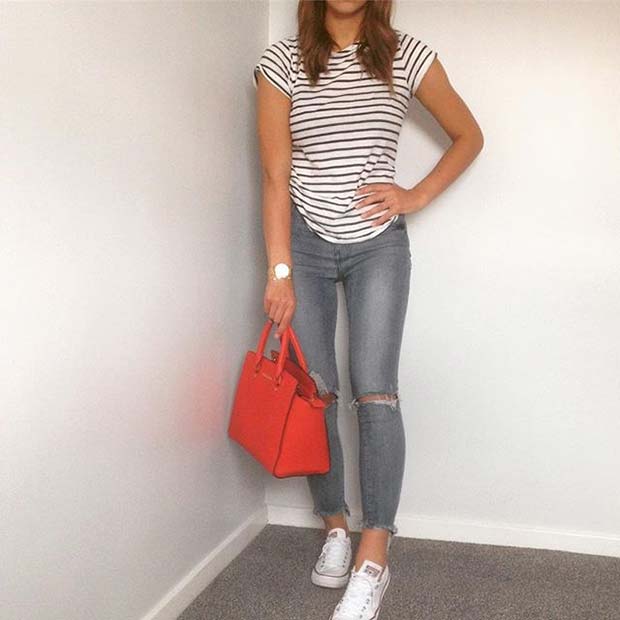 14. NEUTRAL SUMMER PALETTE
Keep your look fresh and cool with neutral colors. Not only do these work well together but will also suit most things you already own. So, you could wear the light top with blue jeans and so on. An outfit like this is great for getting the staple items so you can have a few casual summer outfits.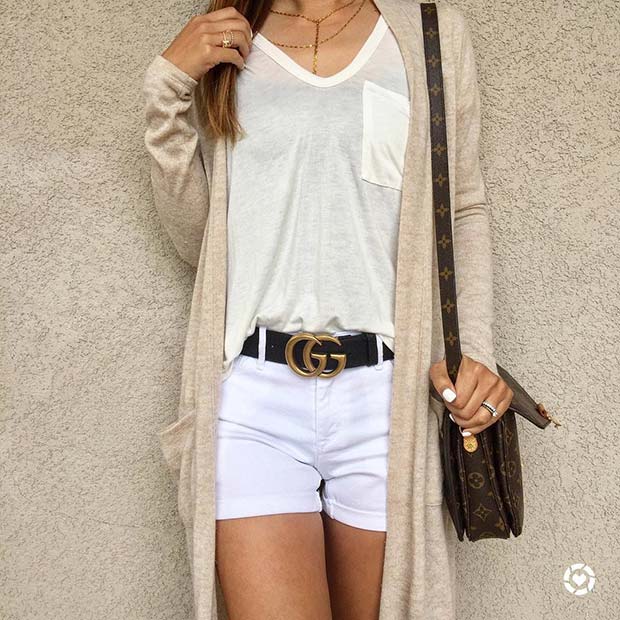 15. BUTTON FRONT SKIRT
Button front skirts have been on trend for a while. These looked great in autumn and winter with boots but now you can get light colored ones like this for summer! A white button skirt like this is trendy and will give your summer look a vintage vibe.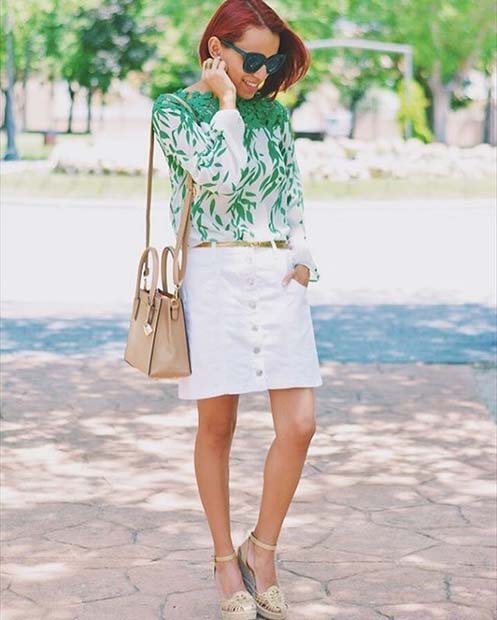 16. TRENDY ROMPER
If the light colors and pretty florals aren't your thing consider a trendy romper like this. The neutral color and minimal style features create a stylish one piece that will keep you cool. You could wear something like this with sneakers or sandals and even glam it up for an evening out with a wedge or heel.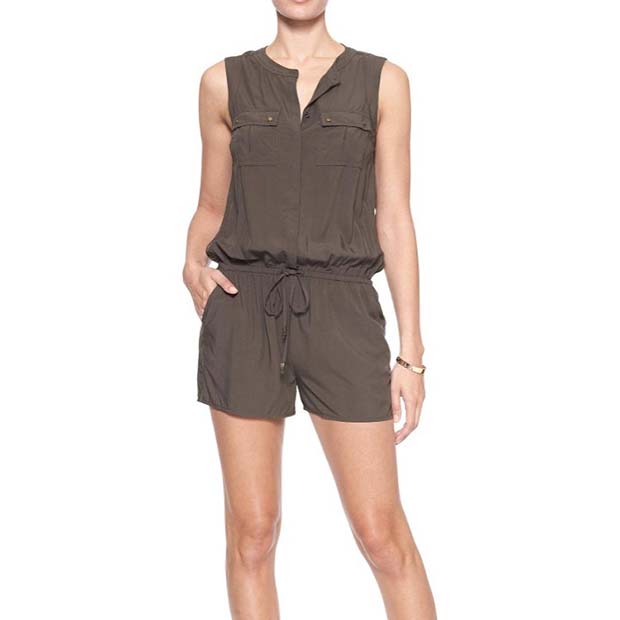 17. LIGHT RIPPED JEANS
Ripped jeans are great for the summer. The rips break up the denim giving it a summery vibe. You could wear jeans like these with anything so are great as a staple item. Jeans can be also be dressed up and down. Wear with flip flops for a casual look and wear with heels if you want to look glam.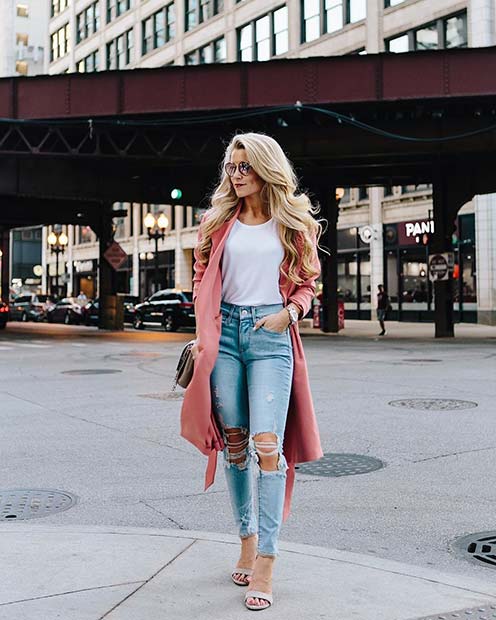 18. DENIM SKIRT AND SNEAKERS
Denim skirts are another trendy and versatile item. For a daytime look wear with a blouse and sneakers like this and if you are on an evening out wear with pretty sandals or wedges. These skirts come in a variety of shades and are a summer must have.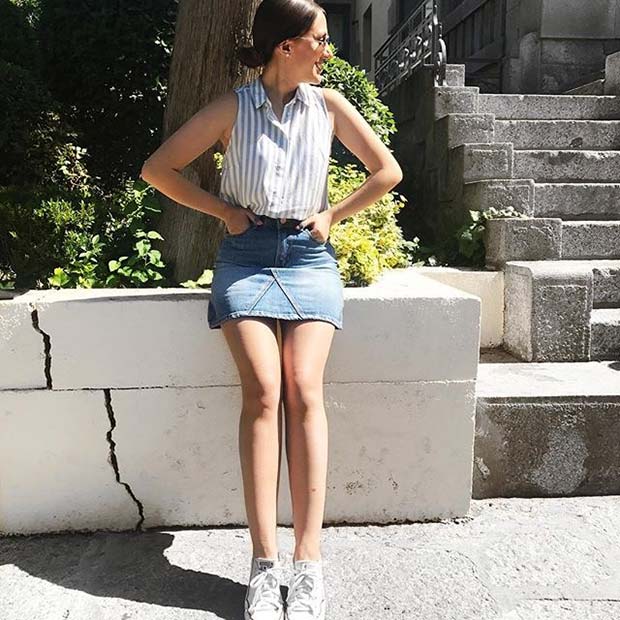 19. CUTE TOP AND DENIM JACKET
Denim jackets are great for the summer. These are great for slightly chillier days when there is a breeze in the air. You still have the summery vibe but won't be cold. Pair your jacket with a cute top like this one and you have a winning outfit every time. Wear with white jeans for a gorgeous summer look.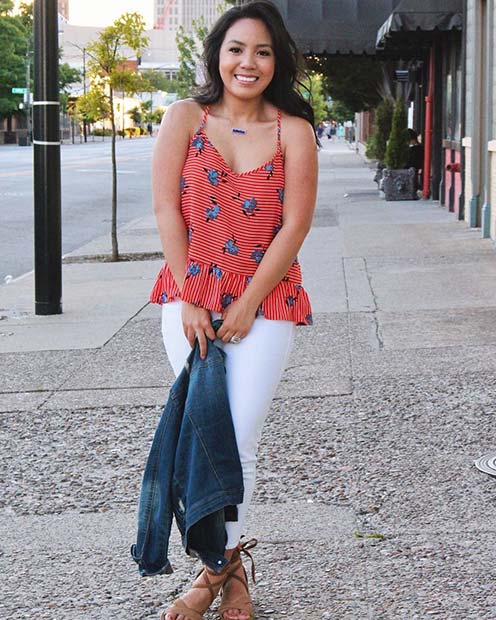 20. VIBRANT ACCESSORIES
You can jazz up any of your outfits with jewelry and accessories. This simple t-shirt and shorts has been given a pop of color with the necklace. Necklaces like this will just add a summery look to your simple or darker outfits. The whole look is super stylish and would suit everyone.