11. STATEMENT RAINBOW NAILS
Looking for bold nails that will wow? Then this idea is for you! The nails are long and each nail is painted in two different colors to create a cool rainbow design. There are also two accent nails that feature crystals too. You can recreate a blended two tone look like this, or you can use nail tape to create a more striking and precise half and half color design.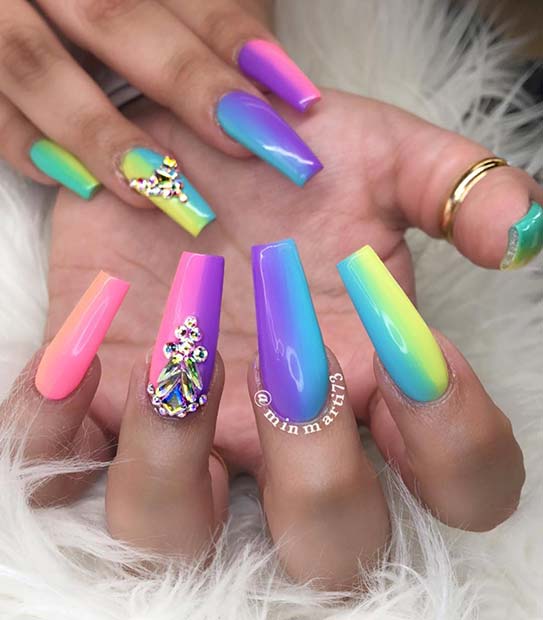 12. PRETTY PASTEL NAIL IDEA
Next, we have another pretty pastel idea. These nails have a beautiful ombre design that uses light and soft pastel colors. A manicure like this will be perfect for the spring and for the ladies that want a subtle rainbow look. The nails were created with the Cake Glaze Bundle from The Nail Cakery.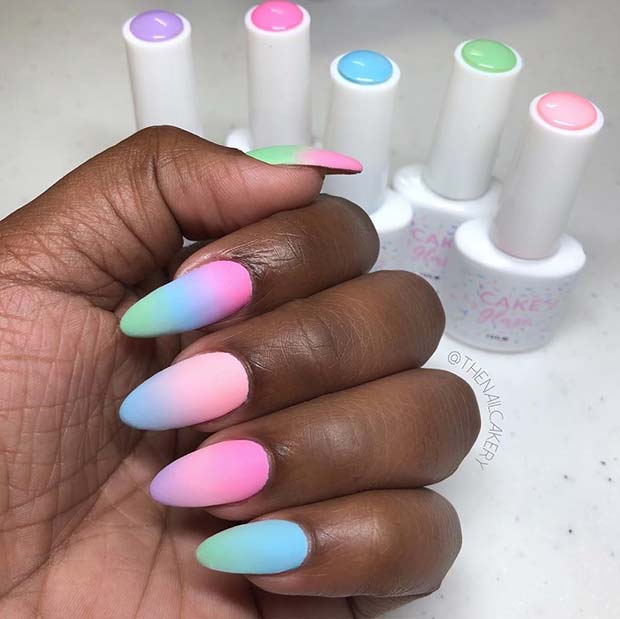 13. SPARKLY CHROME RAINBOW NAILS
Our next idea is unique, colorful and super stylish. Each nail is a different color and they have a sparkly chrome look. You can recreate this or you can try different shades to create a rainbow design. Nail art like this will suit everyone and it will look amazing on any nail shape and length.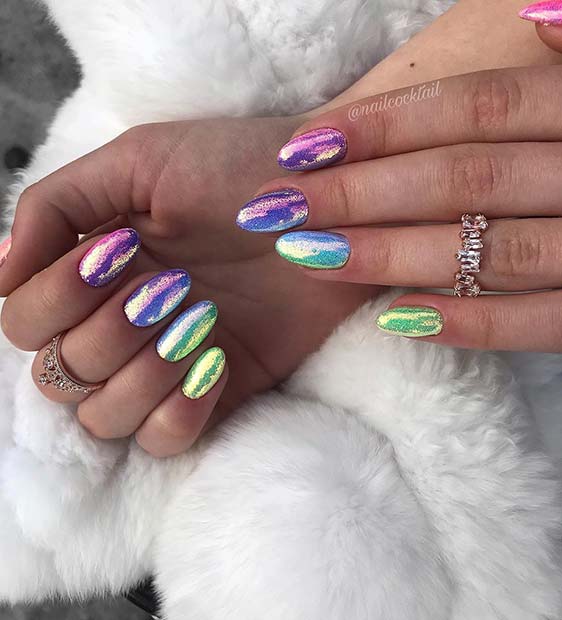 14. PASTEL RAINBOW NAILS WITH RHINESTONES
Love pastel nails? Then our next look is for you! Each nail is a different pastel color and there are two accent designs. One of the accent nails has a striped pastel design and the other features crystals. It is a gorgeous look that combines a few nail trends. This is perfect for the ladies who like to be bold.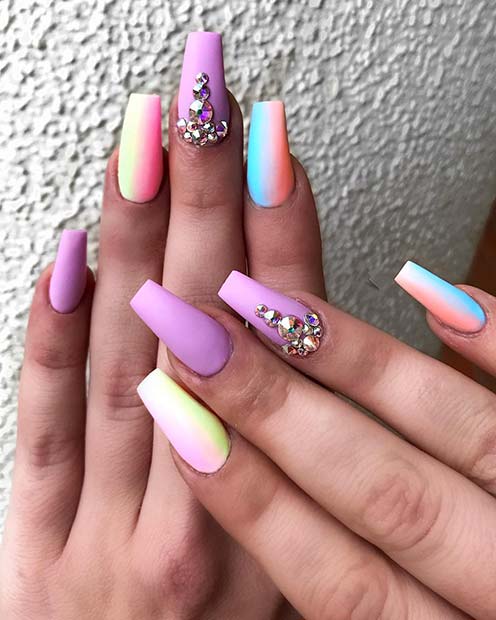 15. RAINBOW NAILS WITH A TRENDY SILVER DESIGN
Jazz up your bright nails by adding silver foil. You can create a design just like this! Each nail is painted in a different color with different silver art on each nail. As you can see, the silver just glams up the colors. You can buy silver foil online and there are tutorials showing you how to apply it too.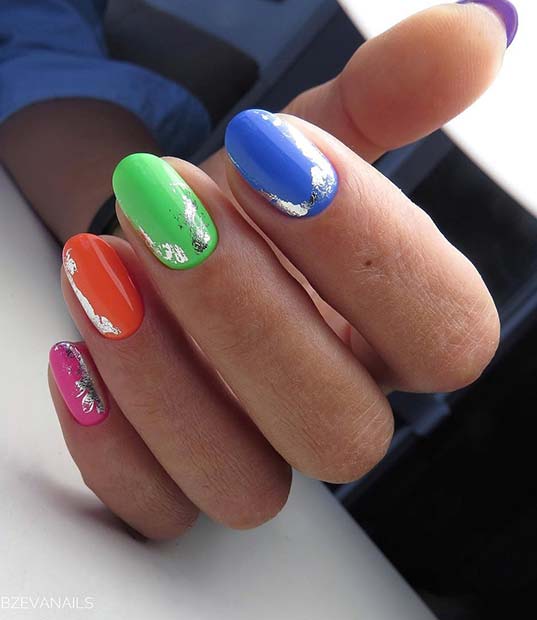 16. LIGHT RAINBOW NAILS WITH SPARKLE
The next nail idea we have to show you is so pretty and beautiful! Some of the nails are painted in very light shades while the others have ombre art and sparkles. This manicure is one of favorites because it has a magical look. It also has a unicorn vibe. Nails like these are great for the ladies that want to look stylish and glam.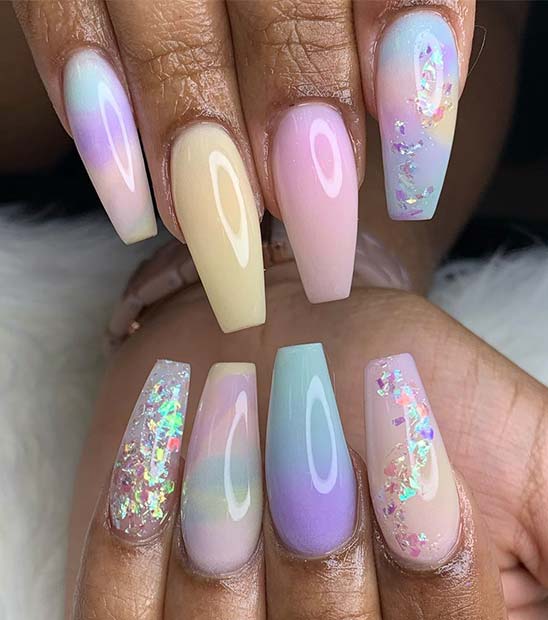 17. BOLD AND VIBRANT NAILS
If the complicated designs are not for you, then choose something simple and colorful like this. Each nail is painted in a different color. The shades used are so vibrant and bold. They are also five colors of the rainbow too. It is an easy to wear look that is simple to create. This will suit everyone.
18. RAINBOW GRADIENT NAILS
Love the stylish gradient nail art? Then check out this next look. These nails are quite short and are painted in vibrant shades. The nails have a subtle sparkle too. It is a beautiful nail idea that would look amazing for the summer and for vacations. You can recreate these colors or try a different rainbow color combination.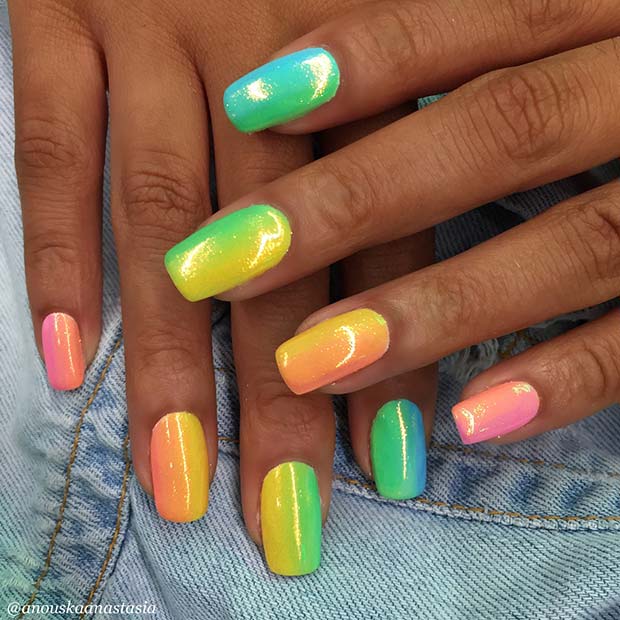 19. UNIQUE RAINBOW NAIL DESIGN
Want a nail design that makes your nails stand out from the crowd? If so, this is for you. Most of the nails have a funky, rainbow design while the rest feature ombre art in different colors. Crystals have also been added to one nail too. This is a beautiful look and you can recreate this or just try the rainbow art without the ombre.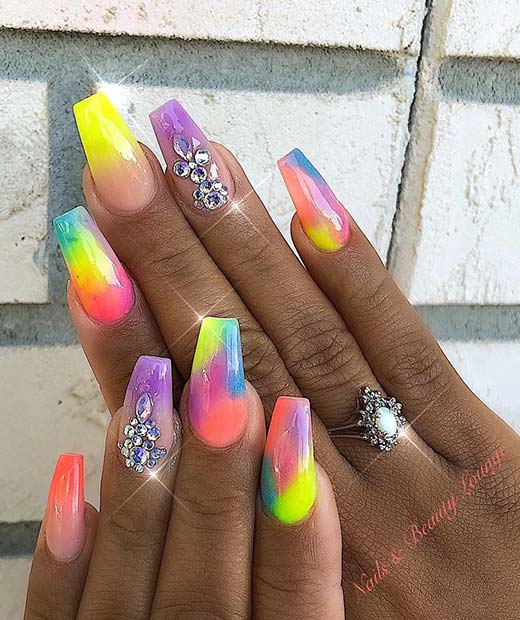 20. CUTE RAINBOW NAILS
Our next idea is subtle and chic. This is another pastel look with two tone gradient art. The colors are so light and soft which creates a low-key rainbow design. We love this idea because it shows how awesome the rainbow trend looks on short nails. You can of course create it on long nails too. It is perfect for someone who does not want a very vibrant and vivid manicure.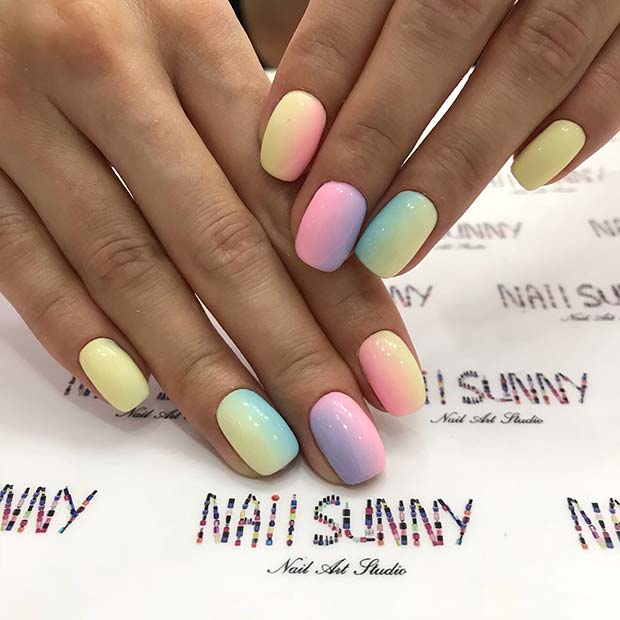 21. CHROME NAILS WITH SPARKLY RAINBOW ACCENT DESIGN
If you are looking for a trendy and cute nail idea then this is for you! Here we have long coffin nails that feature a chrome and rainbow design. Most of the nails are light chrome and there are two accent nails. Both accent nails have sparkly rainbow art. Recreate this or choose a different chrome color of you choice. Any color will compliment the rainbow design.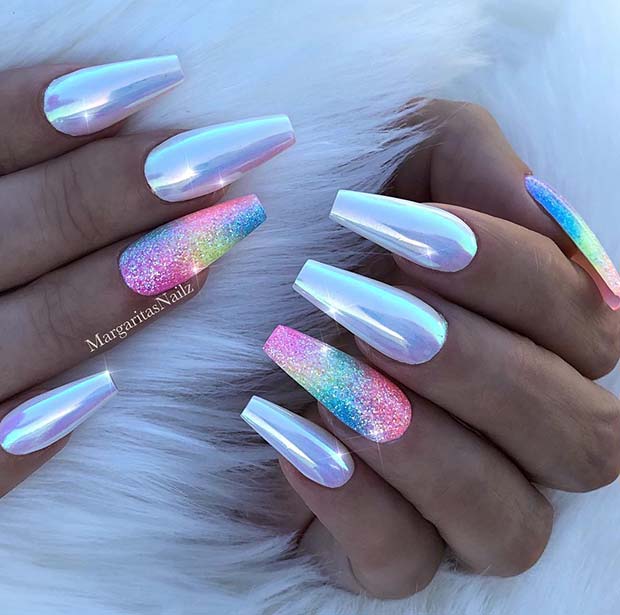 22. VIBRANT MATTE RAINBOW NAILS
Next, we have another colorful look that is easy to create and wear. Each hand features a different color palette. One is pink to yellow while the other is pink to blue. It is such a cool and funky design. You can find out what colors were used on the page below. Recreate both designs or just use one set of colors on each hand.